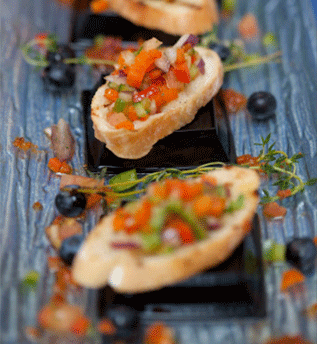 A few words about us
At Chef Exclusive, We offer a variety of menu packages to appeal to your event needs. Whether you are hosting a backyard get-together or planning an upscale wedding, we're sure you'll find what you're looking for here at Chef Exclusive. Even with the rising costs of doing business, we have managed to keep our prices reasonable, without compromising the quality of food. All of our ingredients are delivered daily and brought fresh to your plate on the day of your event. Customize your menu to your liking! View and print our Party Packages Plans & Pricing brochure here.
Business Catering Event Menu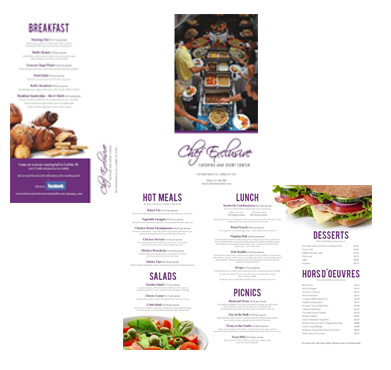 Wedding Catering Menu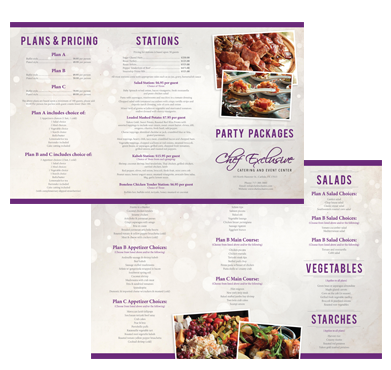 YOU CAN COUNT ON US!
---
Chef Exclusive Offerings
Stations

PRICING FOR STATIONS IS BASED UPON 50 GUESTS

Sugar Glazed Ham $250.00
Roast Turkey $125.00
Roast Sirloin $325.00
Pepper Tenderloin of Beef $475.00
Steamship Prime Rib $525.00

ALL MEAT STATIONS COME WITH APPROPRIATE SAUCES SUCH AS AU JUS, GRAVY, HORSERADISH SAUCE

Salad Station $6.95 per guest
Choice of Three:
Baby Spinach w/red onion, bacon vinaigrette, fresh mozzarella and pesto chicken salad
Pasta with asparagus, mushrooms and zucchini in a tomato dressing
Chopped salad with tomatoes/cucumbers with crispy tortilla strips and chipotle ranch dressing, side or corn and onion
Mixed field of greens w/julienne vegetable and marinated tomatoes endive dressed with sherry vinaigrette.
Loaded Mashed Potato $7.95 per guest
Yukon Gold, Sweet Potato, Roasted Red Bliss Potato with assorted toppings to include sour cream, sweet cream butter, chives, dill, oregano, cilantro, fresh basil, salt/pepper.
Cheese toppings, shredded cheddar or jack, crumbled blue or feta, grated parmesan.
Meat toppings, hearty chili, taco meat, crumbled bacon and chopped ham.
Vegetable toppings, chopped scallions or red onions, steamed broccoli, green beans, or asparagus, grilled corn, chopped fresh tomatoes, grilled onions and roasted red peppers.
Kabob Station $15.95 per guest
Choice of Three from each grouping:
Shrimp, coconut shrimp, beef tenderloin, Thai chicken, grilled chicken, curried chicken, lamb
Red pepper, olives, red onion, broccoli, fresh fruit, mini corn cob
Peanut sauce, honey yogurt sauce, mustard vinaigrette, avocado lime salsa, bbq, garlic lemon sauce
Boneless Chicken Tender Station $6.95 per guest
Choice of Three:
Buffalo hot
Buffalo mild
Teriyaki
Honey Mustard
Coconut
---
PACKAGES & PRICING
PACKAGES
PACKAGE A
BUFFET STYLE 39.95 PER PERSON
PLATED STYLE 49.95 PER PERSON
PACKAGE B
BUFFET STYLE 49.95 PER PERSON
PLATED STYLE 59.95 PER PERSON
PACKAGE C
BUFFET STYLE 79.95 PER PERSON
PLATED STYLE 89.95 PER PERSON

*THE ABOVE PACKAGES ARE BASED UPON A MINIMUM OF 100 GUESTS, PLEASE ADD $5.00 PER PERSON FOR PARTIES WITH GUEST COUNTS LOWER THAN 100.
PACKAGE A INCLUDES CHOICE OF:
2 HOR D'OEUVRES CHOICES (1 HOT, 1 COLD)
1 SALAD CHOICE
2 ENTREE CHOICES
1 VEGETABLE CHOICE
1 STARCH CHOICE
ROLLS/BUTTER
LEMONADE/ICE TEA
BARTENDER INCLUDED
CAKE CUTTING INCLUDED
PACKAGE B & C INCLUDES CHOICE OF:
3 HOR D'OEUVRES CHOICES
1 SALAD CHOICE
2 ENTREE CHOICES
1 VEGETABLE CHOICE
1 STARCH CHOICE
ROLLS/BUTTER
LEMONADE/ICE TEA
BARTENDER INCLUDED
CAKE CUTTING INCLUDED (WITH COMPLIMENTARY DIPPED STRAWBERRIES)
PACKAGE A HOR D'OEUVRES CHOICES:
BEEF WELLINGTON
CHICKEN WELLINGTON
FRANKS IN A BLANKET
COCONUT CHICKEN TENDERS
SESAME CHICKEN
ARTICHOKE & PARMESAN PURSES
CRISPY ASPARAGUS WITH ASIAGO
BRIE EN CROUTE
BREADED PARMESAN ARTICHOKE HEARTS
ROASTED TOMATOES & YELLOW PEPPER BRUSCHETTA (COLD)
MEAT & CHEESE WITH CRACKERS (COLD)
PACKAGE B HOR D'OEUVRES CHOICES (CHOOSE FROM LISTED ABOVE AND/OR THE FOLLOWING):
ANDOUILLE SAUSAGE & SHRIMP KABOB
BEEF KABOB
SAUSAGE STUFFED MUSHROOMS
SIRLOIN W/ GORGONZOLA WRAPPED IN BACON
SOUTHWEST SPRING ROLL
COCONUT SHRIMP
MUSHROOMS WITH CRAB MEAT
FETA & SUNDRIED TOMATOES
SPANAKOPITA
DOMESTIC & IMPORTED CHEESE W/CRACKERS & MUSTARD (COLD)
PACKAGE C HOR D'OEUVRES CHOICES (CHOOSE FROM ALL LISTED ABOVE AND/OR THE FOLLOWING):
MOROCCAN LAMB LOLLIPOPS
SZECHUAN TERIYAKI BEEF SATAY
CRAB CAKES
PEAR & BRIE
PORTOBELLO PUFFS
RATATOUILLE VEGETABLE TART
ROASTED ROOT VEGETABLE KABOB
ROASTED TOMATO YELLOW PEPPER BRUSCHETTA
COCKTAIL SHRIMP (COLD)
PACKAGE A MAIN COURSE:
ROASTED STUFFED CHICKEN BREAST
CHICKEN BRUSCHETTA
SIRLOIN TIPS
SALMON PICCATA
BAKED ZITI
VEGETABLE LASAGNA
CHICKEN BREAST PARMIGIANA
SAUSAGE RIGATONI
EGGPLANT BIANCO
PACKAGE B MAIN COURSE (CHOOSE FROM LISTED ABOVE AND/OR THE FOLLOWING):
CHICKEN PICCATA
CHICKEN MARSALA
TERIYAKI STEAK TIPS
STUFFED PORK CHOP
PENNE PASTA W/BREAST OF CHICKEN
PASTA SHELLS W/ CREAMY CRAB
PACKAGE C MAIN COURSE (CHOOSE FROM ALL LISTED ABOVE AND/OR THE FOLLOWING):
FILET MIGNON
NEW YORK STRIP STEAK
BAKED STUFFED JUMBO BAY SHRIMP
TWO TWIN CRAB CAKES
SCAMPI AMORE
PACKAGE A SALAD CHOICES:
GARDEN SALAD
CHOP HOUSE SALAD
CLASSIC CAESAR SALAD
SOUTHWESTERN ROASTED CORN SALAD
PACKAGE B SALAD CHOICES (CHOOSE FROM LISTED ABOVE AND/OR THE FOLLOWING):
GARDEN SALAD
TOMATO CUCUMBER SALAD
MEDITERRANEAN SALAD
PACKAGE C SALAD CHOICES (CHOOSE FROM ALL LISTED ABOVE AND/OR THE FOLLOWING):
GARDEN SALAD
TOMATO AND MOZZARELLA
COBB SALAD
VEGETABLE CHOICES (APPLIES TO ALL PACKAGES):
GREEN BEAN OR ASPARAGUS ALMONDINE
MAPLE GLAZED CARROTS
CORN ON THE COB (IN SEASON)
GRILLED FRESH VEGETABLE MEDLEY
BROCCOLI & PEARLIZED ONIONS
ROASTED ROOT VEGETABLES
STARCHES (APPLIES TO ALL PACKAGES):
HARVEST RICE
CREAMY RISOTTO
ROASTED RED POTATOES
YUKON GOLD MASHED POTATOES
---
Breakfast Menu
MORNING GLORY $5.75 per person
Baked breakfast pastries to include muffins, butter croissants, fruit Danish & coffee cakes served with butter & fruit preserves
MUFFIN BASKET $2.95 per person
Assorted baked muffins to include, blueberry streusel, chocolate orange, oatmeal mixed berry & southern-style carrot bran
GOURMET BAGEL PLATTER $2.50 per person
Served with plain cream cheese, cream cheese with chive, butter & fruit preserves
FRUIT SALAD $3.95 per person
The freshest seasonal fruits served with honey yogurt sauce
BUFFET BREAKFAST $8.95 per person
Scrambled eggs, bacon, sausage, hash browns, variety of breads, muffins & danishes
BREAKFAST SANDWICHES, MIX & MATCH $2.95 per person
Hickory smoked bacon, egg & cheddar cheese on an English muffin
Virginia cured ham, egg & Swiss cheese on a flaky croissant
Bacon buttermilk biscuit filled with vine ripened tomatoes & chive cream cheese
---
Lunch Menu
SANDWICH COMBINATIONS
Assortment of deli sandwiches along with cookies and brownies.
$8.95 per person
Add one side salad
$10.50 per person
Add two side salads
$12.50 per person
Side salad options:
Caesar salad, garden salad, green bean salad, farmer's slaw, potato salad, macaroni salad, mac & cheese, southwestern corn salad
BOXED LUNCH $9.50 per person
Deli wrapped sandwich, pickle spear, chips, cookie, bottled water, condiments
VIRGINIA DELI $12.95 per person
Traditional deli-style platter of shaved roasted beef, smoked turkey breast, smoked ham, Swiss & cheddar cheeses served with red bliss potato salad, coleslaw, deli pickles, lettuce, sliced tomatoes, mayo, mustard & horseradish cream. Assorted sliced breads & rolls, potato chips, cookies & brownies
DELI DOUBLE $14.50 per person
The freshest seasonal fruits served with honey yogurt sauce
BUFFET BREAKFAST $8.95 per person
Sliced meats to include turkey, roast beef, ham, chicken, turkey & pastrami, variety cheeses, roma tomatoes, avocado, romaine lettuce, pesto spread, guacamole, sun dried tomato mayo & jalapeno spread. Croissants, pumpernickel & seven-grain breads. Sliced seasonal fruit, homemade cookies & brownies.
BREAKFAST SANDWICHES, MIX & MATCH $2.95 per person
Hickory smoked bacon, egg & cheddar cheese on an English muffin
Virginia cured ham, egg & Swiss cheese on a flaky croissant
Bacon buttermilk biscuit filled with vine ripened tomatoes & chive cream cheese
WRAPS $7.95 per person
Grilled chicken breast, romaine lettuce, parmesan cheese, Caesar dressing in flour tortilla
Smoked turkey breast, Monterey jack cheese, bacon, red leaf lettuce, tomato, mayo in spinach tortilla
Baked ham, cheese, mixed lettuce, tomato in sun dried tomato wrap
---
Salad Menu
GARDEN SALAD $3.75 per person
Romaine, radicchio, red leaf & limestone bibb lettuce with tomatoes, chickpeas, matchstick carrots, cucumbers & broccoli, choice of dressing
CLASSIC CAESAR $3.75 per person
Romaine lettuce, garlic croutons, & Parmesan cheese in Caesar dressing
COBB SALAD $14.95 per person
Seasoned breast of chicken, crisp bacon, crumbled blue cheese, hard-boiled egg, avocado & tomato with creamy French dressing, includes rolls & butter
---
Lunch Menu - Hot Meal Options
ALL COME WITH CHOICE OF SALAD & ROLLS/BUTTER
BAKED ZITI $12.95 per person
Ziti Pasta with plum tomato sauce, herbed ricotta, mozzarella & parmesan cheese
VEGETABLE LASAGNA $13.95 per person
Add one side salad. Thin pasta layered with roasted vegetables, 3 cheeses & light béchamel cream sauce
CHICKEN BREAST PARMIGIANINO $14.95 per person
Parmesan crusted chicken cutlets; pan fried & topped roasted garlic tomato sauce, parmesan & mozzarella cheeses on a bed of penne pasta
CHICKEN MARSALA $14.95 per person
Fire-roasted chicken breast topped with mushrooms, minced garlic, basil leaf, fresh lemon juice and mozzarella cream sauce
CHICKEN BRUSCHETTA $14.95 per person
Chicken with fresh chopped tomatoes, minced garlic, basil leaf, fresh lemon juice & mozzarella cream sauce
SIRLOIN TIPS $14.95 per person
Sirloin beef tips with peppers, onions & mushrooms, choice of rice or mashed potatoes
DELI DOUBLE $14.50 per person
The freshest seasonal fruits served with honey yogurt sauce
BUFFET BREAKFAST $8.95 per person
Sliced meats to include turkey, roast beef, ham, chicken, turkey & pastrami, variety cheeses, roma tomatoes, avocado, romaine lettuce, pesto spread, guacamole, sun dried tomato mayo & jalapeno spread. Croissants, pumpernickel & seven-grain breads. Sliced seasonal fruit, homemade cookies & brownies.
BREAKFAST SANDWICHES, MIX & MATCH $2.95 per person
Hickory smoked bacon, egg & cheddar cheese on an English muffin
Virginia cured ham, egg & Swiss cheese on a flaky croissant
Bacon buttermilk biscuit filled with vine ripened tomatoes & chive cream cheese
WRAPS $7.95 per person
Grilled chicken breast, romaine lettuce, parmesan cheese, Caesar dressing in flour tortilla
Smoked turkey breast, Monterey jack cheese, bacon, red leaf lettuce, tomato, mayo in spinach tortilla
Baked ham, cheese, mixed lettuce, tomato, lettuce in sun dried tomato wrap
---
Picnic Items
BACKYARD PICNIC $9.95 per person
All American hamburgers & hot dogs accompanied by ketchup, mustard & relish; platters of lettuce, tomatoes & red onions, served with fresh rolls, new potato/green bean salad, chop house salad and strawberry shortcake
DAY IN THE PARK $14.95 per person
Grilled barbeque chicken breast in a mesquite marinade, roasted red bliss potatoes, corn cobbettes, farmers slaw, garden salad, cookies & brownies
PICNIC IN THE SOUTH $12.95 per person
Crispy pieces of southern fried chicken, new potato/green bean salad, red bean/smoked ham salad, chopped house salad, buttermilk biscuits & butter, Chef Choice dessert
TEXAS BBQ $14.95 per person
Barbeque brisket of beef, coleslaw, cowboy beans, garden salad, texas toast, assorted cupcakes
---
Dessert
Tray with cookies, brownies and dessert bars
$3.25 per person
Carrot Cake
$3.25 per person
Double chocolate cake
$3.25 per person
Cheesecake
$4.75 per person
Trifle
$2.25 per person
Tiramisu
$4.75 per person
---
Hor D'Oeuvres
Beef Kabob $2.75
Beef Wellington $2.75
Franks in a Blanket $2.75
Pork Pot Stickers $3.25
Sausage Stuffed Mushrooms $3.50
Southwest Spring Roll $2.75
Szechuan Teriyaki Beef Satay $3.50
Chicken Wellington $2.25
Coconut Chicken Tenders $2.25
Sesame Chicken $2.25
Grilled Marinated Vegetables $2.75
Roasted Tomato & Yellow Pepper Bruschetta $2.00
Cold Cocktail Shrimp $4.50
Domestic & Imported Cheese & Crackers $4.25
Meat, Cheese & Crackers $2.75
---